Current state
Most of us are in the same boat: from one day to the other, our working world has changed. No one provided training for it or a new policy, information programs and change management.
Just get on with it
We just have to get on with it. And somehow it works - sometimes better, sometimes it could be improved. While some of us are working from home, others have been hit significantly harder. In essence, they experience unemployment, struggling to manage their way through a stretched and hastily created together security net.
But somehow, life must go on, and we need to get along virtually and in our families.
Start looking ahead
As many companies are still busy to manage the "stay at home"-directive, creating and managing virtual teams, managing a potentially struggling technology infrastructure, we need to start looking ahead - as challenging as it might be at the moment.
So what might be possible future scenarios that we may face?
---
The post-COVID-19 world
I am not an economist or a futurist, just an observer with lived experienced during a couple of crises. I think what we are experiencing today has in this form not existed before and it will change us and the economy dramatically. While previous crisis (e.g. new market bubble, GFC) had harsh implications on companies, government and individuals, the time we are experiencing at the moment will have a much more profound, more structural impact.
We were coming from national centric history (post WW2) globally and moved rapidly into hyper-globalisation with distributed supply chains and deep economic interdependencies. Industries rely on just-in-time models and distributed production chains. Many organisational capabilities have been outsourced, which might now prove challenging across several sectors: Pharmaceuticals, Automotive, Electronics, and others.
COVID-19 and mutations of it will most likely keep us busy in the future until the virus is fully integrated into our vaccination regime and becomes part of the annual flu season. Until then, we will most likely see small clusters of infections flaring up.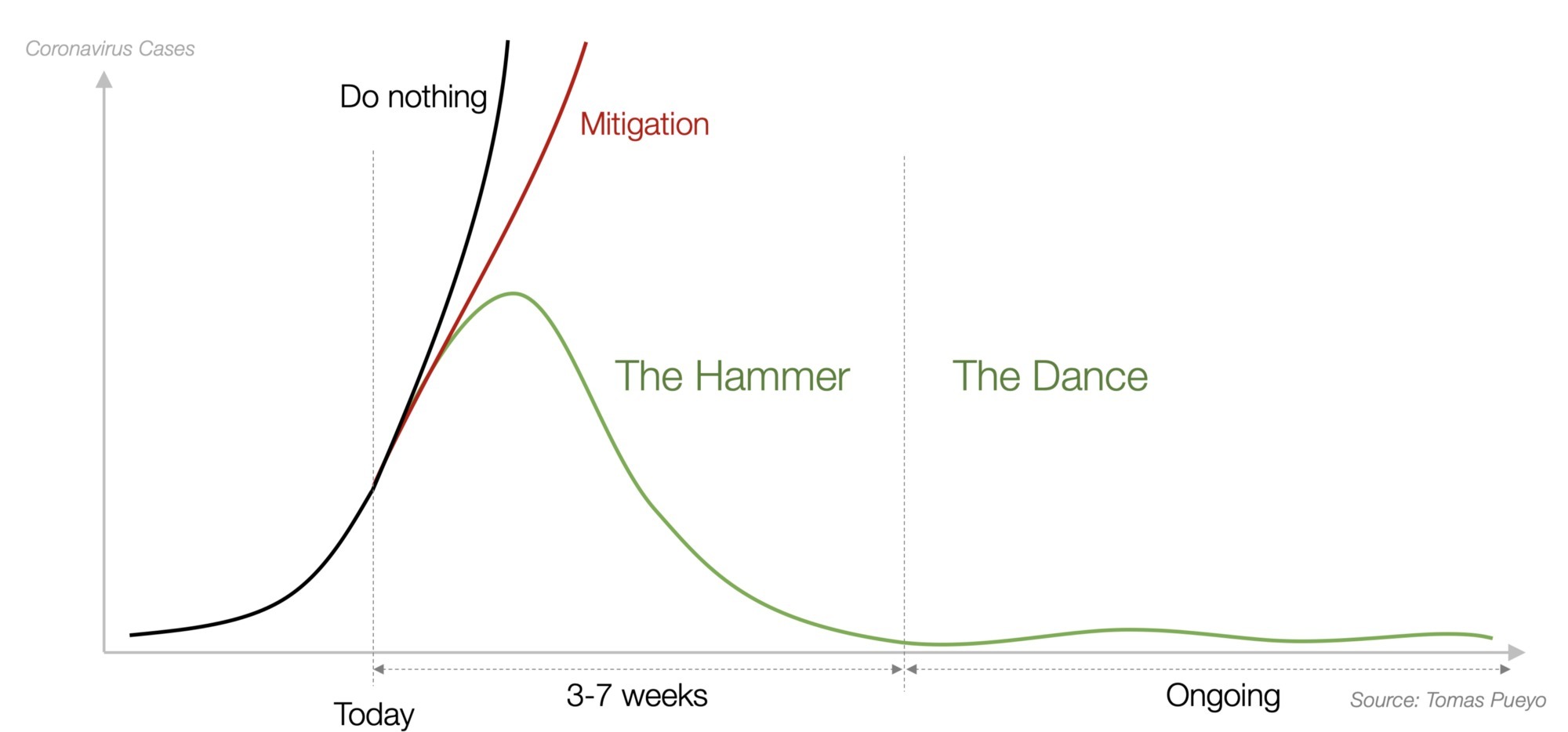 Coronavirus: The Hammer and the Dance, Source: Medium
This corona virus could become a recurring fact of life, like the flu, […].
Source: medium.com
---
Possible scenarios and impacts
Taking current news and research/publications into account, there are some possible impacts we need to prepare for:
Re-establishment/insourcing or re-distribution of manufacturing capability: for core industries that have displayed high dependencies on imports or off-shoring.
Less office space & travel, more work from home and virtual collaboration: the current situation has provided the proof point for many companies that virtual, distributed working can work. A logical consequence would be to retain and strengthen the regime to create more flexibility in and less overhead from investment in office space and travel.
Online learning and virtual teaching are now established models across all levels (including C-suite): Similar to working in distributed, virtual teams, online learning and virtual instruction are now the (new) normal. May companies were struggling to create a consistent and continuous uplift of online learning. Online learning will now be more accepted than ever before.
The rapid push of online sales and service and accelerated death of the storefront: The current environment forces many companies to accelerate their online activities and distribution networks. The transformation that would have possibly taken another 3-5 years will now be accelerated, including significant shifts in the workforce and capability base.
Creation of new workforces, rapid re-skilling and up-skilling of entire workforce segments: distributed working will increase the demand and requirements for skilled resources in all areas of digital, cyber and networks as well as potentially the creation of a new online workforce with distributed work models, based on service creation rather than process.
Shared on-shore infrastructures: the need to create new workforces, up- and re-skilling could lead to the establishment of shared training infrastructure, for instance in the finance or manufacturing sector with highly comparable workforce profiles, driving agility and transparency across core workforces while reducing system redundancies.
Faster push to e-government: Many government services are already existing online; however, the current needs are forcing governments to improve processes and systems rapidly and to offer more services online, requiring significant up-skilling and re-skilling efforts.
Reduction of transfer payments: A massive stimulus package of almost 500 billion dollars implies that the government will have to make concessions on transfer payments and public sector investments in the future. A reduction in transfer payments and expenditures will likely impact funding for education.
---
Nine areas HR & L&D must prepare for now
Given the possible scenarios and impacts there are likely implications that HR and L&D need to start considering now, preparing for the changes we will see after we return to what is then the "new normal":
Need to understand changed and new workforce requirements and to rebuild lost workforces, including adjusted recruiting and staffing /redeployment routines.
HR teams need to have the capability to iterate possible workforce scenarios dynamically to stay ahead of developments and likely skill shortages in the labour market, providing business leaders with analytic insights and answers to the "so what" question.
As workforces reshape and rebuild, HR needs to be in the position to redeploy or re-match people to new roles and remits rapidly. Especially re-matching people to new roles require solid competency models as a foundation to understand current, and future workforce needs. However, competency can be clunky to manage. Moving to essential qualifications will be a means to match workforces into the roles rapidly.
HR and L&D need to start thinking about an approach to large scale re-skilling & up-skilling models to address a changed skills agenda and the impact of workforce matching and redeployment.
Companies need to be prepared to invest more money and time into tertiary education (vocational qualification) as government benefits are likely to shrink in the future.
New tried and tested work from home models will eventually become the new normal and require new procedures around employee engagement and performance management.
HR departments need to re-think existing policies and guidelines around virtual work / flexible work, job-design, performance and rewards.
We need to investigate new compensation models that reflect the award of capability and service delivery rather than traditional job evaluation and compensation models to reflect and address job-matching and emerging types of work.
HR and L&D need to provide a perspective on the people component in the re-evaluation of ongoing or planned transformation programs: are these still fit for purpose given changes in the environment and can the transformation outcomes be achieved with current workforce and skills availability.
HR and L&D departments will (IMHO) face their biggest challenge yet, once we all return into work and economic environment that will have changed significantly from the day we left it.
What do you think are the most pressing issues you expect to encounter?
---
Recommended reading and go-to resources:
Everything vocational training: https://www.cedefop.europa.eu/en
Megatrends for the post corona era: Mit den Megatrends in die Post-Corona-Zeit
The Corona Effect: Der Corona-Effekt: 4 Zukunftsszenarien
COVID-19 crisis: what will Australia look like on the other side?: Coronavirus Australia: How will COVID-19 shape our country's future?
Why COVID is hitting us now and how we prepare for the next outbreak: Alanna Shaikh: Why COVID-19 is hitting us now — and how to prepare for the next epidemic | TED Talk
Coronavirus: The Hammer and the Dance: https://medium.com/@tomaspueyo/coronavirus-the-hammer-and-the-dance-be9337092b56
Australia's net debt likely to jump to more than $500 billion as massive coronavirus stimulus unleashed: https://www.abc.net.au/news/2020-03-31/how-will-130-billion-dollar-coronavirus-stimulus-be-paid-for/12105774
---
Opinions expressed are solely my own and do not represent the views or opinions of my employer